Drunken Master 醉拳 DVD (1978) (Region Free DVD) (English Subtitled) Digitally Remastered (Mei Ah)
$24.99 USD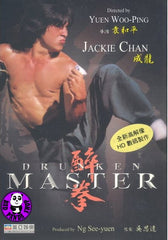 Region Coding: Region Free

Starring: 
Jackie Chan 成龍
Yuen Siu Tin 袁小田
Hwang Jang Lee 黃正利

Director:
Yuen Woo Ping 袁和平

Audio Tracks: 
Dolby Digital 5.1

Languages: 
Cantonese, Mandarin

Subtitles: 
English, Traditional Chinese, Simplified Chinese

Running Time: 
98 minutes

Distributor:
Mei Ah

Release Date:
30 Apr 2004

Synopsis:

Blending interesting martial arts moves with slapstick comedy, "Drunken Master" has created a new genre of comedy kung fu. Jackie plays Wong Fei Hung, the rebellious son of a kung fu master. To give him a lesson, his father apprentices him to another master named Beggar So, who has a unique "drunken" fighting style. In the movie, Jackie shows his astounding kung fu techniques and natural humour. The fight sequences are so well arranged, which are dizzying and amazingly choreographed by director Yuen Woo Ping.
More items to consider...