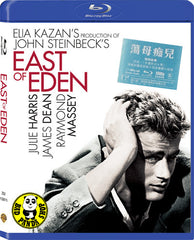 Region Coding: Region Free

***This movie was filmed in Black and White (not colour).

Starring:
Julie Harris
James Dean
Raymond Massey
Burl Ives
Dick Davalos
Jo Van Fleet

Director:
Elia Kazan

Audio Tracks: 
DTS-HD Master Audio 5.1, Dolby Digital 3.0, Dolby Digital 1.0

Languages: 
English, Spanish, French, German, Italian

Subtitles:
English, Traditional Chinese, Spanish, Portuguese, Korean, French, German, Italian, Czech, Danish, Finnish, Hebrew, Norwegian, Romanian, Swedish, Turkish

Running Time: 
115 minutes

Distributor:
Warner / Manta Lab

Release Date:
10 Oct 2013

Synopsis:
Based on John Steinbeck's novel and directed by Elia Kaza, East of Eden is the first of three major films that make up James Dean's movie legacy. The 24-year-old idol-to-be play Cal, a wayward Salinas Valley youth who view for the affection of his hardened father (Raymond Massey) with his favoured brother Aron (Richard Davalos). Playing off the haunting sensitivity of Julie Harris, Dean's performance earned one of the film's four Academy Award nominations. Among the movie's stellar performances, Jo Van Fleet won the Oscar as Best Supporting Actress.
More items to consider...