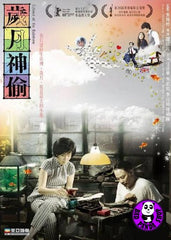 Region Coding: Region Free

Starring:
Simon Yam
Sandra Ng
Aarif Lee
Chung Siu To
Evelyn Choi
Paul Chun

Director:
Alex Law

Audio Tracks: 
DTS 5.1
Dolby Digital 5.1

Languages: 
Cantonese, Mandarin

Subtitles: 
English, Traditional Chinese, Simplified Chinese

Running Time: 
118 minutes

Distributor:
Mei Ah

Release Date:
8 Jun 2010

Synopsis:

Based on a true story as told by the Director, this film tells a story of an ordinary family living in Sham Shui Po, Hong Kong, from 1967 to 1977. A struggling father from Guangzhou, an iron-willed mother supporting the family and their kids facing countless challenges from the changing world with an upbeat attitude. Simon Yam won the best actor award in the Hong Kong Film Awards for his role as a dull cobbler, Sandra Ng as a sharp-tongued-but-soft-hearted housewife. A nostalgic look into the past and a bittersweet story, between the tears and smiles, their stories touch your heart.
..
More items to consider...