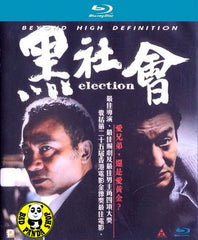 Region Coding:
Region Free


Starring:  
Simon Yam 任達華
Tony Leung Ka Fai 梁家輝
Louis Koo 古天樂
Nick Cheung 張家輝
Gordon Lam 林家棟
Maggie Siu 邵美琪
Eddie Cheung 張兆輝
Lam Suet 林雪
Wong Tin Lam 王天林
Cheong Siu Keung
Patrick Tam
Yau Nai Hoi
Tony Yip

Director:
Johnnie To
杜琪峯

Audio Tracks: 
Dolby Digital 5.1

Languages: 
Cantonese, Mandarin

Subtitles: 
English, Traditional Chinese, Simplified Chinese

Running Time: 
99 minutes

Distributor:
Panorama (HK)

Release Date:
01 June 2012

Synopsis:

Hong Kong' s oldest triad society is about to elect a new chairman when its sacred emblem, the Dragon Head Baton, goes missing. Five sectional leaders, known as the Tigers, turn all their resources over to retrieving the baton before individual and factional ambitions threaten to breakdown the society's central control.
More items to consider...