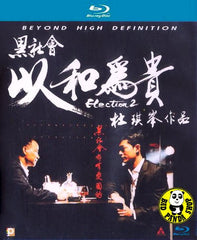 Region Coding: Region Free

Starring:
Simon Yam
Louis Koo
Yau Nai Hoi
Tony Yip
Nick Cheung
Gordon Lam
Wong Tin Lam

Director:
Johnnie To

Audio Tracks: 
Dolby Digital 5.1

Languages: 
Cantonese, Mandarin

Subtitles: 
English, Traditional Chinese, Simplified Chinese

Running Time: 
93 minutes

Distributor:
Panorama (HK)

Release Date:
01 June 2012

Synopsis:

...the post-1998 world of Chinese rule means that even the long-established Wo Shing Triad Society must change its ways and think north. But after the brotherhood was fractured by the ruthless grip of Chairman Lok, it was up to the younger generation to lead the way. Jimmy is the perfect candidate: smart and entrepreneurial. Even the Chinese authorities and interested in what Jimmy has to offer. Only problem is, Chairman Lok isn't one who gives up power easily...
More items to consider...