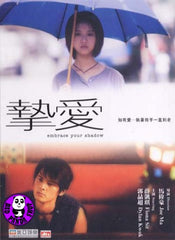 Region Coding: Region Free

Starring:
Fiona Sit
Dylan Kuo

Director:
Joe Ma

Audio Tracks: 
DTS 5.1
Dolby Digital 5.1

Languages: 
Cantonese, Mandarin

Subtitles: 
English, Traditional Chinese, Simplified Chinese

Running Time: 
102 minutes

Distributor:
Mei Ah

Release Date:
15 Nov 2005

Synopsis:

Ran's (Fiona Sit) life has never been easy, until she meets Juchin (Dylan Kuo). She has to look after her brother who was paralyzed by a rare hereditary disease, a special form of Takayasu's arthritis, and a  six year old niece abandoned by her mother. The burden is supported by an unstable job of tailoring curtains with limited income. Juchin, a teenage professional thief, coincidentally bumps into Ran's family. Touched by their love and affection, he decides to protect and help them. Eventually, Ran has fallen for this guardian angel. But a gangster threatens Juchin's life. Nevertheless, Ran and Juchin are still holding on...
More items to consider...