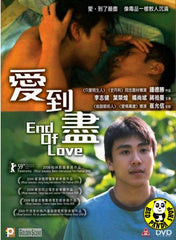 Region Coding: Region Free


Starring: 
Lee Chi Kin
Ben Yeung
Joman Chiang

Director: 
Simon Chung

Audio Tracks: 
Dolby Digital

Languages: 
Cantonese

Subtitles: 
English, Traditional Chinese

Running Time: 
97 minutes

Distributor:
Panorama HK Distributions

Release Date:
5 Mar 2010

Synopsis:
The lives of two young men cross in a Christian rehab camp where they are supposed to be healed from their addictions. This is a story about friendship but also about the intense and often brutal reality of life when it comes to drug abuse. Ming is an attractive young gay man with a passion for drugs and partying. After an overdose his secret identity as a male prostitute is revealed to his boyfriend who is furious about it and breaks up with him. Ming is transferred to a Christian rehab camp. Here he comes clean about his addiction and his sense of guilt. When released he is determined to live a "good" life but it is only a matter of time before the past catches up with him...
More items to consider...