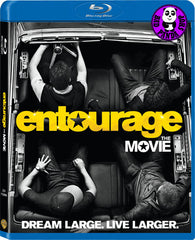 Region Coding: Region A (Locked)

Starring:
Jeremy Piven
Adrian Grenier
Kevin Dillon
Jerry Ferrara
Kevin Connolly
Debi Mazar

Director:
Doug Ellin

Audio Tracks: 
DTS-HD Master Audio 5.1, Dolby Digital 5.1

Languages: 
English, Czech, Russian, Thai

Subtitles:
English, Traditional Chinese, Korean, Portuguese, Thai

Running Time: 
- minutes (TBA)

Distributor: 
Warner / Manta Lab

Release Date:
15 Oct 2015

Synopsis:
Movie star Vincent Chase is back, and so are his boys Eric, Turtle and Johnny! Vincent's also back in business with super-agent-turned-studio head Ari Gold. Their relationships and ambitions may have changed, but the bond between them remains strong as they navigate the capricious and often cutthroat world of Hollywood. Show creator Doug Ellin, who writes and directs, reunites with the original cast as the award-winning hit HBO series finally hits the big screen.


movie trailer (Chinese subtitled)
More items to consider...