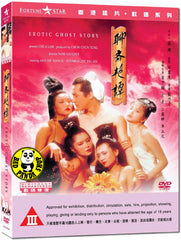 Region Coding: Region 3 (Locked)

Starring:
Sin Lap Man
Amy Yip
Ha Chi Chun
Lam Chung

Director:
Nam Nai Choi

Audio Tracks: 
Dolby Digital

Picture Format:
PAL

Languages: 
Cantonese

Subtitles:
English, Traditional Chinese, Simplified Chinese

Running Time: 
86 minutes

Distributor:
Kam & Ronson Enterprises Co., Ltd. (HK)

Release Date:
10 May 2013

Synopsis:
Once upon a time, there are three sisters who happen to be vixens. So So, Fi Fi and Fa Fa have been doing everything good and assumed the shapes of girls.

They're to become immortal deities if they keep on doing the right thing. Unfortunately, they fall in lovewith a young handsome scholar one by one. But they finally find out that he is notorious devil of lust Wutung. Sex keeps Wutung young, at the expense of his bed partners, though. So the three girls discover fox hair has come back to their bodies. Luckily, a demigod comes to help them out. The vixens are told to behave. They still have a claim to immortality.
More items to consider...