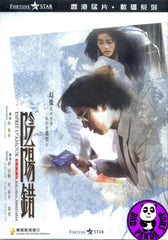 Region Coding: Region Free

Starring:
Alan Tam
Joyce Ni
Cecilia Yip
Bill Tung

Director:
Ringo Lam

Audio Tracks:
Dolby Digital 2.0
DTS 5.1
Dolby Digital 5.1

Languages:
Cantonese, Mandarin

Subtitles:
English, Traditional Chinese

Running Time:
92 minutes

Distributor:
Fortune Star/Joy Sales

Release Date:
27 May 2008

Synopsis:
Koo, an insurance investigator, is sent to make enquiries regarding a case of accidental death. He is surprised to learn that the victim is the same ghost who has spoken to him the night before. Koo is fascinated in working on the case. One night, Yu's spirit appears in Koo's apartment. Her beauty and pleasant personality intrigues Koo. They get involved in a romance between man and spirit. Will Koo and Yu be reunited or will Yu remain, as always, Koo's esprit d'amour?
More items to consider...