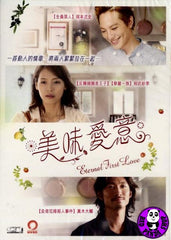 Region Coding: Region 3 (Locked)
Starring: 
Tsukamoto Takashi
Aibu Saki
Maki Daisuke
Kitaoji Kinya
Konno Mahiru
Mogi Kenichiro
Ichikawa Kamejiro
Ichikawa Tomohiro
Makoto Tsubasa

Director: 

Yoshinori Muratani
Audio Tracks: 
Dolby Digital 5.1, DTS Digital Surround

Languages: 
Japanese, Cantonese

Subtitles: 
English, Traditional Chinese

Running Time: 
- minutes

Distributor:
CN Entertainment Ltd.

Release Date:
01 Sept 2011

Synopsis:
"I have go give him an answer to his proposal today, and I wanted to hear your opinion..."

The moment an Italian restaurant Chef running through the night of Tokyo. However, just as he tries to say it, a man who jumped off a nearby building, crushes on top and kill him. Ironically, the man survives, but he doesn't seem to remember anything. Little by little, he starts to regain the memories but is surprised to find that they are not his own memories, but that of the Chef. "Eternal First Love" is a heartwarming and bittersweet love story of a man and a woman, who are strongly bonded by a longtime promise.

What did Takeshi try to tell her on the night of the accident?
More items to consider...