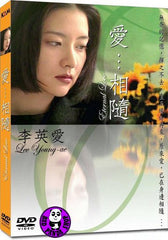 Region Coding:
Region Free

Starring: 
Lee Young Ae
Lee Chang Hoon

Director: 

Yoon Suk Ho
Audio Tracks: 
Dolby Digital 2.0, Dolby Digital 5.1

Languages: 
Korean

Subtitles: 
English, Traditional Chinese, Simplified Chinese

Running Time: 
60 minutes

Distributor:
Kam & Ronson Enterprises Co., Ltd.

Release Date:
10 Feb 2010

Synopsis:
Jungwoo and Junsuh study in a temple. On his way back to the temple, he meets sunhye (Lee Young-ae) who is chased by the police. Under love at first sight, he helps her to get away from the police. Afterwards, he knows she is junsuh's girlfriend and will marry to him, he leaves for U.S.A. A few years later, Jungwoo returns to Korea and meets Sunhye again. But he hears from her that fall in love again, they can't take out the memory of Junsuh. At Last, Jungwoo individually gos to the temple again and meets Sunhye unexpectedly, they spend one night together....

忠喚與好朋友頌守一起在學院修習,在回家路中,遇上申喜(李英愛)被警員追捕,忠喚在一見鍾情下協助申喜擺脫警員。後來忠喚得知申喜是頌守的女朋友並準備結婚,於是傷心地遠走美國。數年後,忠喚返回韓國,再度遇上申喜,從她口中得知,頌守因交通意外逝世。可惜兩人一直揮不去頌守之記憶而無法愛火重燃,直至某日他們不約而同地回到以往修習的學院,兩人終於消去心中的阻礙,一起度過浪漫的晚上。

More items to consider...