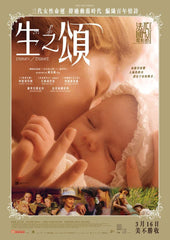 Region Coding:
Region 3 (Locked)

Starring:
Audrey Tautou
Bérénice Bejo
Mélanie Laurent
Jérémie Renier
Pierre Deladonchamps
Irène Jacob

Director:
Anh Hung Tran

Audio Tracks: 
Dolby Digital 5.1

Languages: 
French

Subtitles:
English, Traditional Chinese 繁體中文字幕

Running Time: 
- minutes (TBA)

Distributor: 
CN Entertainment Ltd. (HK)

Release Date:
5 May 2017

Synopsis: 
At the end of the 19th century, Valentine, aged 20, marries Jules. Around a 100 years later, her granddaughter runs across a bridge in Paris and into the arms of the man she loves. Over the century in between, men and women meet, fall in love, embrace, and fulfill their destinies, creating a family tree and a life-force that goes on for eternity…

十九世紀後期,歐洲烽煙四起,無情戰火令女性與丈夫相聚只得匆匆一剎,但她們仍無悔犧牲所有,堅強地獨撐家室、護佑愛情結晶,令真愛得以永續傳承。史詩式愛情鉅獻《生之頌》通過聚焦一個法國家族三代女子的浪漫故事,向這一群在動盪年代擔起半邊天的偉大女性致敬。

movie trailer (English & Chinese subtitles)
More items to consider...