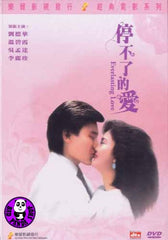 Region Coding: Region Free

Starring: 
Andy Lau 劉德華
Irene Wan 溫碧霞
Loletta Lee 李麗珍
Ng Man Tat 吳孟達

Audio Tracks: 
DTS 5.1
Dolby Digital 5.1

Languages: 
Cantonese, Mandarin

Subtitles: 
English, Traditional Chinese, Simplified Chinese

Running Time: 
100 minutes

Distributor:
Joy Sales

Release Date:
21 Oct 2005

Synopsis:

Abandoned by her boyfriend, young Wan gets pregnant and is forced to become a courtesan after giving birth. The bad thing is that her sister is having the same fate. By chance, Wan meets rich Lau and the two immediately fall for each other. As a courtesan, Wan doesn't think she is good enough for Lau, therefore she never reveals her identity to him until one time the two meets when Wan is working, she reveals the truth to him. Luckily, he doesn't seem to mind, but is he the real Mr. Right for her?
More items to consider...