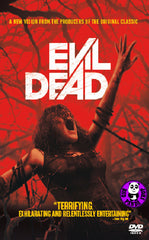 Region Coding: Region A (Locked)

Starring: 
Rupert Degas
Jessica Lucas
Sandweiss Ellen
Lou Taylor Pucci
Shiloh Fernandez
Jane Levy

Director:
Fede Alvarez

Audio Tracks:
DTS-HD Master Audio, Dolby Digital 5.1

Languages: 
English, French, Portuguese, Spanish, Thai

Subtitles:
English, Traditional Chinese, Korean, Spanish, Thai, Portuguese

Running Time:
- minutes (TBA)

Distributor:
Intercontinental Video Ltd. (IVL) HK

Release Date:
23 July 2013

Synopsis:
In the much anticipated remake of the 1981 cult-hit horror film, five twenty-something friends become holed up in a remote cabin. When they discover a Book of the Dead, they unwittingly summon up dormant demons living in the nearby woods, which possess the youngsters in succession until only one is left intact to fight for survival.
More items to consider...