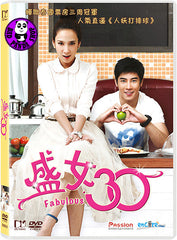 Region Coding: Region 3 (Locked)

Starring:
Patcharapa Chaichue
Phuphom Phongpanu

Director:
Somching Sirisupab

Producer:
Jantima Liawsirikun

Audio Tracks: 
Dolby Digital 5.1, DTS Digital Surround

Languages: 
Thai, Cantonese

Subtitles:
English, Traditional Chinese

Running Time: 
- minutes (TBA)

Distributor:
Deltamac (HK)

Release Date:
03 May 2013

Synopsis:
Heartbroken, dream collapsing, wrinkles appearing as you come across 30 something... As Ja (Patcharapa Chaichue) ending her 31st birthday celebrations drunk and in tears after being dumped by her boyfriend of seven years. The child-like - and much younger - Por (Phuphom Phongpanu) steps in and proceeds to woo her with all the guile of a seven-year-old. With three months that Por has, he will make her accepts his love.

However, it is not easy for Ja to start over and open a heart for someone new, especially someone who is 7 years younger like Por. With the gap of maturity, age and fear, Ja avoided her feelings. The thing is she knew that in a relationship 'love' is not enough...
More items to consider...