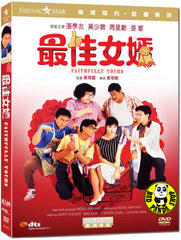 Region Coding: Region 3 (Locked)

Starring:
Jacky Cheung 張學友
Stephen Chow 周星馳
Max Mok 莫少聰
Sharla Cheung 張敏
Richard Ng 吳耀漢
Teddy Yip 葉榮祖
Liu Kai Chi 廖啟智
Bowie Wu 胡楓
Lydia Shum 沈殿霞
Joyce Cheng 鄭欣宜
Huang Hua Qi

Director:
Huang Hua Qi 黃華麒

Audio Tracks: 
Dolby Digital 5.1, DTS Digital Surround

Languages: 
Cantonese, Mandarin

Subtitles:
English, Traditional Chinese

Running Time: 
91 minutes

Distributor:
Kam & Ronson Enterprises Co., Ltd. (HK)

Release Date:
03 May 2013

Synopsis:
A renowned playboy opened a fashionable salon, Chuk's daughter "Ying" came to make peace. The three guys stopped quarrelling immediately because they were charmed by Ying's beauty. In order to woo them to help, he arranged a dinner where he made the greatest mistake. They drank & got drunk. That night, they slept together. And it is believed that one of them has made love to Ying because Ying got pregnant. However nobody knew who had bitten the apple. Of course everyone of them wished to be the one......
More items to consider...