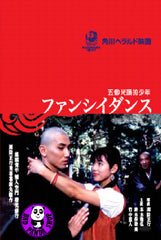 Region Coding: Region 3 (Locked)

Starring:
Masahiro Motoki
Honami Suzuki
Ken Osawa
Maro Hiko
Hiromasa Taguchi
Kazuo Chikada
Yu Tokui
Yoshikazu Ebisu
Akira Emoto
Eri Fuse
Hisako Hara
Yuriko Hirooka
Masanori Irie
Michiko Kawai
Miyako Koda
Nobuko Miyamoto

Director:
Masayuki Suo

Writer:
Reiko Okano
Masayuki Suo

Audio Tracks:
Dolby Digital 5.1

Languages:
Japanese

Subtitles:
English, Traditional Chinese, Simplified Chinese

Running Time:
101 minutes

Distributor:
Intercontinental Video Ltd. (IVL) HK

Release Date:
26 July 2013

Synopsis:
Yohei, a punk rocker, becomes a Buddhist monk in order to inherit a mountain temple. Though initially rebelling against the tough monastic discipline, he learns to adjust. Then his girlfriend shows up, enticing him to return to his rock 'n' roll roots.

More items to consider...