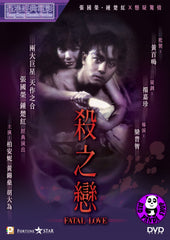 Region Coding: Region 3 (Locked)

Starring:  
Leslie Cheung 張國榮
Cherie Chung 鍾楚紅
Ann Bridgewater (Annie Pak) 柏安妮
Melvin Wong 黃錦燊
Philip Kwok 郭振鋒
David Wu 胡大為

Director:  
Leong Po Chih 梁普智 (梁普志)

Audio Tracks:  
Dolby Digital 5.1

Languages:  
Cantonese 粵語, Mandarin 國語

Subtitles: 
English, Traditional Chinese 繁體中文字幕, Simplified Chinese 簡體中文字幕

Running Time:  
93 minutes

Distributor:
Panorama (HK)

Release Date:
14 Aug 2020

Synopsis:
A bright young advertising executive, Wing (Leslie Cheung) falls in love with Hung (Cherie Chung), the girl-friend of Sam (Melvin Wong), a vicious Hong Kong gangster. When he learns of her betrayal, Sam hires a Thai hitman to eliminate both Wing and Hung. The star-crossed lovers are finally forced to confront their nemesis, leading to a tragic denouement.

廣告公司總監戚近榮(張國榮 飾)駕車返家途中,差點把紅(鍾楚紅 飾)撞到。紅美麗脫俗,榮對她念念不忘,力查下落,終於二人再次相遇。浪漫背後,紅原來是黑社會大佬曹立三(黃錦燊 飾)的情婦。榮依然拼命追求,妄想能與紅脫離魔掌。曹妒火中燒,請來殺手,二人唯有私奔……


movie trailer (English subtitled)
More items to consider...