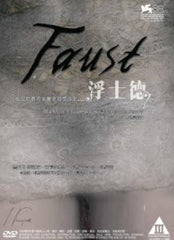 Region Coding: Region 3 (Locked)

Starring:
Johannes Zeiler
Anton Adasinsky
Isolda Dychauk

Director:
Sokurov Aleksandr

Audio Tracks: 
Dolby Digital 5.1

Languages: 
German

Subtitles:
English, Traditional Chinese

Running Time: 
134 minutes

Distributor:
Edko Films Ltd. (HK)

Release Date:
26 June 2013

Synopsis:
Freely inspired by Goethe's story, Russian legendary auteur Alexander Sokurov radically reinterprets the myth. Faust (Johannes Zeiler) is a professor and alchemist but also an anonymous man made of flesh and blood driven by inner impulses, greed and lust. Pursuing the meaning of life, he unearths corpses and rummages in their guts to search for the soul, and he takes up with the Moneylender (Anton Adasinskiy), a grotesquely repellent version of Mephistopheles, to whom he later sells his soul for the love of Margarete (Isolda Dychauk). FAUST is the final instalment of Sokurov's tetralogy about the corrupting nature of power – MOLOCH, TAURUS and THE SUN featured Hitler, Lenin and Hirohito respectively.
More items to consider...