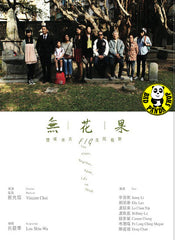 Region Coding: Region Free

Starring:
Jenny Li
Eliz Lao
Lo CHun Yip
Carson Chung
Po Long Ching Megan
Doug Chan
Stiffany Lo

Director:
Vincent Chui

Audio Tracks: 
Stereo

Languages: 
Cantonese

Subtitles:
English, Traditional Chinese

Running Time: 
96 minutes

Distributor: 
YEC / Kam & Ronson Enterprises Co., Ltd. (HK)

Release Date:
7 July 2015

Synopsis:
Written by Hong Kong Film Awards winner Lou Shiu-Wa (The Way We Are, 2008), this latest feature from indie filmmakers Vincent Chui is a realistic, unadorned portrayal of contemporary family and love relationships: Ka, a common housewife, leaves her husband after big change in the family. Then she encounters Man, who has for years blamed her father Chow for bringing to light his relationship with his lover Tracy after the accidental death of Mans mother. And so it seems that from departures stems relationships anew, but there are in fact little to be explained in the logic of cause-and-effect for existence, death, encounters, and love.
More items to consider...