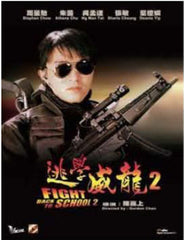 Region Coding: Region Free

Starring:
Stephen Chow 周星馳
Athena Chu 朱茵
Deanie Ip 葉德嫻
Sharla Cheung 吳君如
Wong Jing 王晶
Ng Man Tat 吳孟逹

Director:
Gordon Chan 陳嘉上

Producer:
Jimmy Heung 向華勝

Audio Tracks: 
DTS 5.1

Languages: 
Cantonese, Mandarin

Subtitles:
English, Traditional Chinese, Simplified Chinese

Running Time: 
- minutes (TBA)

Distributor: 
Vicol Entertainment Ltd. (HK)

Release Date:
2 April 2015

Synopsis:
For their work in solving the crime from the previous movie,Cho is promoted to the Special Crimes unit, while Sing, due to his irreverent attitude, is demoted to being a traffic cop. Cho gets an assignment working undercover at the International School to investigate terrorist activity. Concerned for Cho's safety, Sing quits his job and sneaks into the school posing as a student. Complicating the case is one of Cho's colleagues on the police force, Mark, who tries to sabotage Cho because of his own thirst for glory and recognition. Sing discovers a suspicious map, and determines correctly that the terrorists will act on Christmas Eve. When Mark's forces are defeated, it is up to Sing and Cho to lead the SWAT team to victory. Impressed, Sing's superior promotes Sing back onto the Police Force.
More items to consider...