Fight Back To School 3 逃學威龍3之龍過雞年 (1993) (Region Free DVD) (English Subtitled) Remastered
$18.99 USD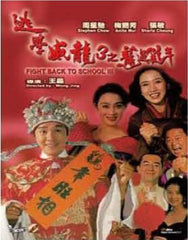 Region Coding: Region Free

Starring:
Stephen Chow 周星馳
Anita Mui 梅艷芳
Sharla Cheung 吳君如
Nat Chan 陳百祥
Anthony Wong 黃秋生
Leung Kar Yan 梁家仁

Director:
Wong Jing 王晶

Producer:
Stephen Shiu 蕭若元

Audio Tracks: 
DTS 5.1

Languages: 
Cantonese, Mandarin

Subtitles:
English, Traditional Chinese, Simplified Chinese

Running Time: 
- minutes (TBA)

Distributor: 
Vicol Entertainment Ltd. (HK)

Release Date:
2 April 2015

Synopsis:
Stephen Chow is back as police officer Chow Sing Sing, undercover extraordinaire. This time, he is sent to investigate the murder of millionaire Million Wong, to whom Chow has an uncanny resemblance, by posing as Wong himself. Police contact Mrs. Wong to tell her they have located her alive but amnesic husband. Through meeting Wong's strange friends and family, and through many misunderstandings and mistakes, Chow thinks he has the answer -- only to find that his girlfriend, Min, is dating the murder suspect. A brilliant, zany spoof on the movie Basic Instinct.
More items to consider...