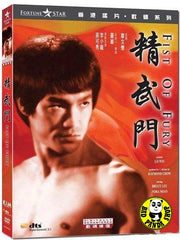 Region Coding:
Region 3 (Locked)

Starring:  
Bruce Lee
Nora Miao
James Tien

Director:
Lo Wai

Audio Tracks: 
DTS 5.1
Dolby Digital 5.1

Languages: 
Cantonese, Mandarin

Subtitles: 
English, Traditional Chinese, Simplified Chinese

Running Time: 
106 minutes

Distributor:
Kam and Ronson

Release Date:
19 Jul 2012

Synopsis:
Chen Zhen (Bruce Lee) arrives at Shanghai to attend the funeral of his teacher, famed pugilist Ho Yuan-chia. A tablet bearing the characters "The Sick Nation In Eastern Asia" is sent to the school by a Japanese Martial Arts Association. It is a national insult to the Chinese, and an angered Chen storms the Japanese Association. At the behest of his colleagues, Chen is about to leave the troubled scene for a while. But he changes his mind at the last minute upon the discovery of his teacher's death being masterminded by the Japanese Association...
More items to consider...