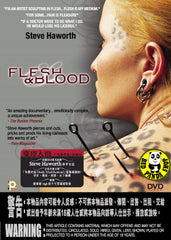 Region Coding: Region 3 (Locked)

Director:
Larry Silverman

Audio Tracks:
Dolby Digital

Language:
English

Subtitles:
Traditional Chinese

Number of Disc:
1 DVD

Running Time:
64 minutes

Production:
- (TBA)

Distributor:
Panorama (HK)

Release Date:
31 Dec 2008

Synopsis:
FLESH & BLOOD is the high-concept documentary profiling American underground cult figure, Steve Haworth, the inventor of extreme body modification. Beyond tattos, common pierings and plastic surgey, Haworths client requests include altering a mans face to become more catlike (complete with lacerated lips being sewn to the nostrils), inserting bolts into the scalp to create a metal mohawk, slicing genitalia for enhanced sexual pleasure and placing stainless steel hooks in flesh for self - suspension via industrial strength cables. And, because Haworth is not a doctor,all of these procedures are done without anesthesia! Are these people crazy or are they simply more enlighted than the rest of us?FLESH & BLOOD artfully examines this provocative phenomenon with compelling personal stories and images that have to be seen to be beleived. This amazing documentary will haunt the viewer long after the show has ended.
More items to consider...