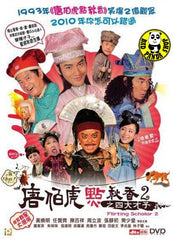 Region Coding: Region Free

Starring:  
Richie Jen
Huang Xiao Ming
Zhang Jing Chu
Fan Siu Wong
Nat Chan
Lam Tze Chung
Kingdom Yuen
Mimi Chu
Zhou Li Bo
Tenky Tin

Director:
Lee Lik Chi
Action Director:
Dion Lam

Audio Tracks: 
Dolby Digital 5.1, DTS Extended Surround, DTS-ES

Languages: 
Cantonese, Mandarin

Subtitles: 
English, Traditional Chinese

Running Time: 
102 minutes

Distributor:
Panorama (HK)

Release Date:
03 Sept 2010

Synopsis:
"Fliritng Scholar 2" is the latest prequel to Stephen Chow's 1993 famous comedy, from the same director Lee Lik Chi and starring Huang Xiaoming as the new Tong Pak Fu. Tong Pak Fu's mother sent him to Qingfeng Monastery when he was little. Bored by the monotonous student life at the monastry. Tang Pak Fu and his three scholars good friends Zhu Zhi Shan, Wen Zheng Ming, Xu Zhen Qing often go out for secret excursions. One day during their ususal excursion, Tang Pak Fu encounters Qian Qian and he knows immediately it's love at first sight. Fate soon brings them together again and their love grows. However, Qian Qian's real identity hides an evil mystery which threatens her love with Ton Pak Fu and her own life....
More items to consider...