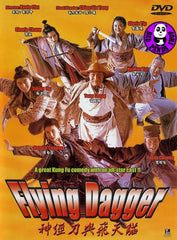 Region Coding: Region Free

Starring: 
Jacky Cheung
Tony Leung Ka Fai
Maggie Cheung
Sharla Cheung
Ng Man Tat
Jimmy Lin
Gloria Yip

Director: 
Kevin Chu

Audio Tracks: 
Dolby Digital Surround 5.1

Languages: 
Cantonese, Mandarin

Subtitles: 
English, Traditional Chinese

Running Time: 
86 minutes

Distributor:
Mei Ah Entertainment (HK)

Release Date:
23 Sept 1993

Synopsis:

The well-known Flying Dagger Chung and his nephew Lam lived on rewards from apprehending bandits. Chung refused the love of Great Coquette Lady Fung. Therefore, Fung always messed Chung's business for revenge. Flying fox, the country's number one bandit, had stolen the millionaire Tsao's evidence of being a traitor. Hence, Tsao employed Chug to catch the bandit. Flying Fox's wife, Flying Cat seduced Chung in order to save her husband, which caused jealousy and a severe fight with Fung. Meanwhile, Lam was kidnapped by Tsao. Chung and Fung finally realized that Tsao was the head of East Wing. They united together to beat against Tsao....
More items to consider...