Forbidden City Cop 大內密棎零零發 (1996) (Region 3 DVD) (English Subtitled) Digitally Remastered
$17.99 USD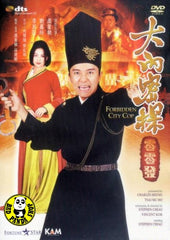 Region Coding: Region 3 (Locked)

Starring:  
Stephen Chow 周星馳
Carina Lau 劉嘉玲
Carmen Lee 李若彤
Tats Cheung 張逹明
Law Kar Ying 羅家英

Director:
Vincent Kok 谷德紹
Stephen Chow 周星馳

Audio Tracks: 
DTS 5.1
Dolby Digital 5.1

Languages: 
Cantonese, Mandarin

Subtitles: 
English, Traditional Chinese, Simplified Chinese

Running Time: 
88 minutes

Distributor:
Kam and Ronson

Release Date:
24 Sep 2010

Synopsis:
"Fat" was a member of the secret team "The King's Guardian". He knew nothing about martial art, so he was the most neglected of the team and was disguised as a doctor awaiting orders from the Emperor. "Kam" dynasty used an excuse to assassinate the Emperor. "Fat" smelled the trouble and went along secretly to protect the Emperor. After that "Fat" received the highest honor. Meanwhile, he was tempted by a famous prostitute Kim. In fact, this was a trap.. 
More items to consider...