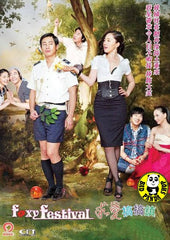 Region Coding:
Region 3 (Locked)

Starring: 
Shin Ha Kyun
Uhm Ji Won
Shim Hye Jin
Sung Dong Il
Ryoo Seung Bum
Baek Jin Hee

Director: 

Lee Hae Yeong

Audio Tracks: 
Dolby Digital 5.1, DTS Digital Surround

Languages: 
Korean
Subtitles: 
English, Traditional Chinese

Running Time: 
104 minutes 

Distributor: 
CN Entertainment Ltd.

Release Date:
23 Feb 2012

Synopsis:
Jang-bae, a police officer who has always been confident about his manhood is shocked when he finds that his girlfriend is using a vibrator. An elegant Hanbok store owner Sun-shim is aroused when she stumbles upon handcuffs and whips at a local hardware store. High school girl, Ja-hye, makes money from selling her sweaty underwear on the intemet, and persistently tries to win the heart of Sang-du, a mysterious junk-food seller on the street. Middle-aged school teacher Gwang-rok grows a fetish after he tries on the lingerie he bought for his wife. Ordinary people with secret desires venture out to pursue their passion and play out their sexual fantasies.
More items to consider...