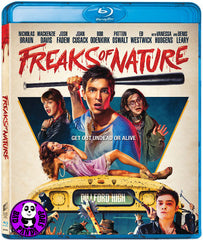 Region Coding: Region A (Locked)

Starring:
Nicholas Braun
Mackenzie Davis
Josh Fadem
Denis Leary
Ed Westwick
Vanessa Hudgens

Director:
Robbie Pickering

Audio Tracks: 
DTS-HD Master Audio 5.1, Dolby Digital 5.1

Language: 
English, Japanese, French, Spanish, Thai

Subtitles:
English, Traditional Chinese, Japanese, Korean, Indonesian, Portuguese, Spanish, Thai

Running Time: 
- minutes (TBA)

Distributor: 
Sony Pictures / Intercontinental Video Ltd. (IVL)

Release Date:
16 Feb 2016

Synopsis:
In Freaks of Nature, we welcome you to Dillford, where three days ago, everything was peaceful and business as usual: the vampires were at the top of the social order, the zombies were at the bottom, and the humans were getting along in the middle. But this delicate balance was ripped apart when the alien apocalypse arrived in Dillford and put an end to all the harmony. Now it's humans vs. vampires vs. zombies in all-out, blood-sucking, brain-eating, vamp-staking mortal combat - and all of them are on the run from the aliens. It is up to three teenagers - one human, one vampire, and one zombie - to team up, figure out how to get rid of the interplanetary visitors, and try to restore order to this "normal" little town.

More items to consider...