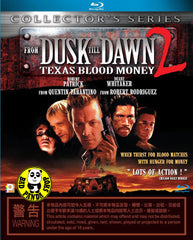 Region Coding: Region A (Locked)
Starring: 
Robert Patrick
Bruce Campbell
Danny Trejo

Director:
Scott Spiegel

Audio Tracks:
English Dolby DTS-HD Master Audio 5.1
English Dolby Digital 5.1

Subtitles:


Traditional Chinese (No English subtitles)

Running Time:
130 minutes

Distributor:
Panorama HK Distributions

Release Date:
31 Jan 2012

Synopsis:
Luther escapes from prison and asks Buck to gather the old gangs at a Mexico Motel to plan a bank heist. Texas sheriff Lawson is chasing after him. On the way to the motel, Luther hits a big bat. Since then, all the members of the gang become vampires one by one, leaving Buck the only human. During the robbery, the police's weapons are obviously useless to the immortal vampire gangs. Buck then decides to join forces with his enemy Otis to fighst against the monsters...
More items to consider...