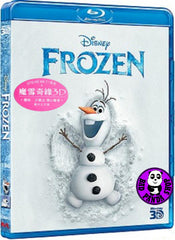 Region Coding: Region Free

Starring:
Animation

Director:
Chris Buck
Jennifer Lee

Audio Tracks: 
DTS-HD Master Audio 7.1, Dolby Digital 5.1

Language: 
English, Cantonese 粵語, Mandarin 國語, Korean, Thai, Portuguese

Subtitles:
English, Traditional Chinese 繁體中文字幕, Korean, Bahasa (Malaysia), Thai, Bahasa (Indonesian), Portuguese

Running Time: 
102 minutes

Distributor:
Buena Vista / Intercontinental Video Ltd. (IVL) HK

Release Date:
18 March 2014

Synopsis:
Featuring the voices of Kristen Bell and Idina Menzel, "Frozen" is the coolest comedy-adventure ever to hit the big screen. When a prophecy traps a kingdom in eternal winter, Anna, a fearless optimist, teams up with extreme mountain man Kristoff and his sidekick reindeer Sven on an epic journey to find Anna's sister Elsa, the Snow Queen, and put an end to her icy spell. Encountering mystical trolls, a funny snowman named Olaf, Everest-like extremes and magic at every turn, Anna and Kristoff battle the elements in a race to save the kingdom from destruction.


This Blu-ray set contains the 3D version only. To play the 3D version, you need a 3D Blu-ray player and a 3D compatible display that supports 3D glasses (glasses are not included for this item).


movie trailer (Chinese subtitle)

More items to consider...