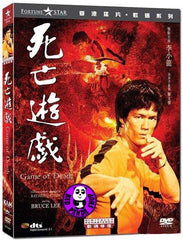 Region Coding: Region 3 (Locked)
Starring: 
Bruce Lee 李小龍
Sammo Hung 洪金寶
Colleem Camp
Dean Jagger
Gig Young

Director: 

Robert Clouse

Audio Tracks: 
Dolby Digital 5.1, DTS Digital Surround

Languages: 
English

Subtitles: 
English, Traditional Chinese, Simplified Chinese

Running Time: 
100 minutes
Distributor:
Kam & Ronson Enterprises Co., Ltd. (HK)

Release Date:
05 July 2012

Synopsis:
Bruce Lee's last screen work the died during the production, "Game Of Death is a film that mystifies the man and the fegend. Lee plays Billy Lo, a successful movie star, who is shot for refusing to join an international management syndicate. He takes his own death as an opportunity to pursue the gang in secret. Although the death of Lee inevitably affected the final production of the film, it still contains some of the most unforgettable sequence in the history of cinema. The climax, in which Lee combats different masters of martial arts an each floor as he climbs his way to the top of a pagoda, is a perfect example. And the unique nunchaku battle with Danny Inasnto proves that Lee was years ahead of his time.
More items to consider...