Girl in the Sunny Place (2013) 寵愛情人夢 (Region 3 DVD) (English Subtitled) Japanese movie a.k.a. Her Sunny Side / Hidamari no Kanojo
$17.99 USD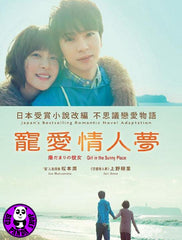 Region Coding: Region 3 (Locked)

Starring:
Jun Matsumoto
Juri Ueno
Tetsuji Tamayama
Masaki Suda
Koji Ookura
Mitsuki Tanimura
Takumi Kitamura
Wakana Aoi
Kazutoyo Koyabu
Naomi Nishida
Midori Kiuchi
Sansei Shiomi

Director:
Takahiro Miki

Audio Tracks: 
DTS 5.1, Dolby 5.1

Language: 
Japanese

Subtitles:
English, Traditional Chinese, Simplified Chinese

Running Time: 
128 minutes

Distributor:
Intercontinental Video Ltd. (IVL) HK

Release Date:
17 April 2014

Synopsis:
Mao (Juri Ueno) and Kosuke (Jun Matsumoto) first met in high school. When Mao was called stupid and billied, Kosuke stepped in to rescue and that's where their romance emerged. Ten years later they meet again. She becomes an attractive woman but her memory before 13 years old was lost. They quickly fall in love and marry. But Mao holds a secret close to her heart - is there a happy ever after for Mao and Kosuke?


More items to consider...