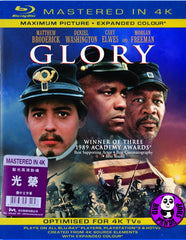 Region Coding: Region Free

Starring: 
Matthew Broderick
Denzel Washington
Morgan Freeman
Andre Braugher
Cary Elwes
Gunton Bob
Donovan Leitch
Baskous Christian
Finn John
Cliff De Young

Director:
Zwick Edward

Audio Tracks:
Dolby TrueHD 5.1, Dolby Digital

Languages: 
English, Japanese, Thai

Subtitles:
English, Traditional Chinese, Simplified Chinese, Japanese, Korean, Thai

Running Time:
122 minutes

Distributor:
Sony Pictures / Intercontinental Video Ltd. (IVL) HK

Release Date:
06 Aug 2013

Synopsis:
Glory's tells the epic true story of Colonel Robert Gould Shaw and his 54th Massachusetts Regiment - the American Civil War's first black fighting unit. By risking their own lives in battle, these men were to lay claim to freedom and citizenship for themselves and their children. Matthew Broderick ('Torch Song Trilogy', 'Biloxi Blues') is Colonel Shaw whose heroic leadership and dedication provides inspiration and encouragement to his men. Denzel Washington ('Cry Freedom') is Trip, a runaway slave who joins the 54th Regiment. Angry and rebellious, Trip comes to embody the unbreakable spirit and noble determination of his people.
More items to consider...