Glory To The Filmmaker! (2007) (Region 3 DVD) (English Subtitled) Japanese movie a.k.a. Kantoku Banzai!
$14.99 USD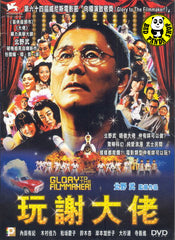 Region Coding: Region 3 (Locked)

Starring:
Kitano Takeshi
Kimura Yoshino
Uchida Yuki
Suzuki Anne
Matsuzaka Keiko
Osugi Ren
Kishimoto Kayoko
Terajima Susumu

Director:
Kitano Takeshi

Audio Tracks: 
Dolby Digital 5.1, Hi-Fi Stereo

Languages: 
Japanese

Subtitles:
English, Traditional Chinese

Running Time: 
105 minutes

Distributor:
Panorama (HK)

Release Date:
05 Dec 2009

Synopsis:
Famous director Kitano goes on a quest to shoot the ultimate film for movie-lovers everywhere, but he finds out this isn't as easy as it sounds. He's already troubled since having declared to stop making violent films despite his previous success with yakuza movies. Determined to turn out a hit film, Kitano imagines every genre possible for his new project. An Ozu-style film would be too slow.

A nostalgic period piece wouldn't work either. What about a horror film which could eventually be remade by Hollywood? Maybe a romantic tear-jerker? A costume adventure full of sword play? Better yet, a sci-fi extravaganza!

Unfortunately for the frustrated Kitano, all his pitches are nixed. Then he takes on the story of a ruthless lady con artist and her money-hungry daughter who set their sights on a wealthy man. On screen and off, a series of wacky, unpredictable events soon follow, especially when an unprecedented catastrophe is about to change history. So this time, it's up to the director to not only complete his film, but also save mankind!

More items to consider...