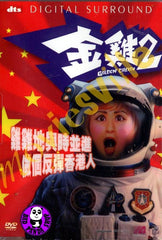 Region Coding: Region Free
Starring:
Sandra Ng
Jacky Cheung
Chapman To
Cheng Chung Kei

Director:
Chiu Leung Chun

Audio Tracks:
DTS 5.1, Dolby Digital 5.1

Languages:
Cantonese, Mandarin

Subtitles:
English, Traditional Chinese

Running Time:
104 minutes

Distributor:
Mega Star

Release Date:
27 Feb 2004

Synopsis:

The top actress returns to her award-winning role as unusual prostitute Kum and takes the audience to hilarious adventures set in different time zones. In the sequel, Kum prevents a young fellow from taking an addictive drug and then goes on to tell him about her life, from the 2003 SARS outbreak in Hong Kong to an unforgettable affair with one of her close relatives. Enjoy Kum's latest comic tale which also features top stars like Leon Lai and Jacky Cheung!
More items to consider...