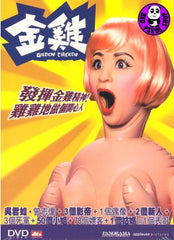 Region Coding: Region Free
Starring: 
Sandra Ng 吳君如
Chow Hoi Kwong 鄒凱光
Tiffany Lee
Samson Chiu
Yee Chung Man
Peter Chan
Peter Kam
Andy Lau
Eric Tsang
Alfred Cheung
Felix Wong
Chapman To
Kristal Tin

Director: 
Samson Chiu

Audio Tracks: 
DTS Digital Surround

Languages: 
Cantonese, Mandarin

Subtitles: 
English, Traditional Chinese, Simplified Chinese

Running Time: 
130 minutes

Distributor:
Panorama (HK)

Release Date:
07 March 2003

Synopsis:

The Golden Chicken is a riotous and raunchy exploration of one woman's wacky life of prostitution, spanning over 20 years in Hong Kong. Our heroine is KUM, unattractive but so happy-go-lucky and spunky that she is a true Hong Kong survivor, and a legend in her own right. In Hong Kong, where prostitutes are referred to as chickens she has earned herself the title of the Golden Chicken the ultimake hooker.
More items to consider...