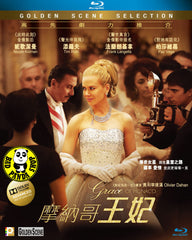 Region Coding: Region A (Locked)

Starring:
Nicole Kidman
Tim Roth
Frank Langella
Milo Ventimiglia
Parker Posey
Roger Ashton-Griffiths

Director:
Olivier Dahan

Audio Tracks: 
Dolby TrueHD Advanced 96k upsampling, Dolby Digital EX

Language: 
English (part-of French)

Subtitles:
English, Traditional Chinese

Running Time: 
- minutes (TBA)

Distributor:
Panorama (HK)

Release Date:
26 June 2015

Synopsis: 
Set in 1962, six years after her celebrated "Wedding of the Century", GRACE of MONACO is an intimate snapshot of a year in the life of the twentieth century's most Iconic Princess, Grace Kelly, as she strives to reconcile her past and her present - a yearning for a return to the big screen and her newfound role as mother of two, monarch of a European principality and wife to Prince Rainier III.

While contemplating overtures from Alfred Hitchcock to return to her career in Hollywood, Grace finds herself plunged into a personal crisis when Rainier's modernization of an ailing Monaco is halted by France's President, Charles de Gaulle, who threatens to impose French taxation on Monaco and reclaim the principality by force.

A full-blown international crisis and impending invasion by France presents a crisis not only for her family, her marriage and her country, but in Grace's private life. It will become the moment in which a cinematic icon, an American far from home, will have to face a tough decision: return to her celebrated status as a movie star globally loved and adored; or embrace her new role and identity, her duty to her husband, her children and the world's second smallest principality that has now become her home.
movie trailer (English subtitled)
More items to consider...