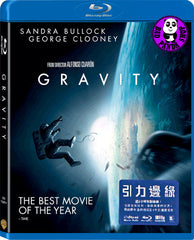 Region Coding:
Region Free

Starring:
Sandra Bullock
George Clooney
Ed Harris
Orto Ignatiussen
Phaldut Sharma
Amy Warren

Director:
Alfonso Cuaron

Audio Tracks: 
DTS-HD Master Audio 5.1, Dolby Digital 5.1

Language: 
English, Czech, Hungarian, Polish, Thai, Turkish, Russian

Subtitles:
English, Traditional Chinese 繁體中文字幕, Simplified Chinese 簡體中文字幕, Korean, Portuguese, Thai, Indonesian, Czech, Russian, Turkish, Arabic, Bulgarian, Greek, Hungarian, Latvian, Polish, Romanian, Serbian

Running Time: 
91 minutes

Distributor:
Warner / Intercontinental Video Ltd. (IVL) HK

Release Date:
21 Feb 2014

Synopsis:
Dr. Ryan Stone (Oscar winner Sandra Bullock) is a brilliant engineer on her first shuttle mission with veteran astronaut Matt Kowalski (Oscar winner George Clooney). On a seemingly routine spacewalk, disaster strikes. The shuttle is destroyed, leaving Stone and Kowalski completely alone, tethered to nothing but each other and spiraling out into the darkness. As fear turns to panic, every gulp of air eats away at what little oxygen is left. But the only way home may be to go farther out into the terrifying expanse of space.

*Nearly 3 hours of special features


More items to consider...