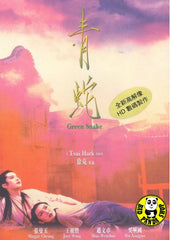 Region Coding: Region Free

Starring: 
Maggie Cheung 張曼玉
Joey Wang 王祖賢
Vincent Zhao 趙文卓
Wu Xing Guo 吳興國

Director: 
Tsui Hark 徐克


Audio Tracks: 
Dolby Digital 5.1, DTS Digital Surround

Languages: 
Cantonese, Mandarin

Subtitles: 
English, Traditional Chinese, Simplified Chinese


Running Time: 
99 minutes

Distributor:
Mei Ah Entertainment (HK)

Release Date:
29 March 2004

Synopsis:

Under the camera of Tsui Hark, the Chinese famous legend "Green Snake" has been put under the limelight. Without changing the story itself, Tsui's creativeness makes the movie become a counter-traditional production and brings the audience a refreshing respective for the movie. Maggie Cheung (As Siu Ching, Green Snake) and Joey Wang (As Sou-Ching, White Snake) do a magnificent job in playing the righteous goblins. Added with creative special effects, the movie is really a legend which is worth watching.
More items to consider...