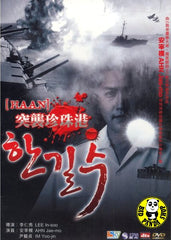 Region Coding:
Region Free

Starring: 
Ahn Jae Mo
Im Yoo Jin
Lee Yeong Seok
Han In Soo
Sin Woo Cheol I
Jeong Mi Seong

Director: 
Lee In Soo


Audio Tracks: 
Dolby Digital 5.1, DTS Digital Surround

Languages: 
Korean

Subtitles: 
English, Traditional Chinese, Simplified Chinese

Running Time: 
85 minutes

Distributor:
Sky Entertainment Distribution Ltd. (HK)

Release Date:
03 May 2007

Synopsis:
A Korean-born American, Haan, works for Consulate-General of Japan in Honolulu, Hawaii, During World War II, Haan is a double agent to gather intelligence for the US and Japan, One day, Haan receives a crucial piece of information that there will be a surprise attack by the Japanese, and he informs the Americans. However, the Americans ignore it and put Haan in jail, thereby letting the Japanese successfully attack on Pearl Harbour. More than two thousand Americans are killed or wounded, shocking the US Immensely.
More items to consider...