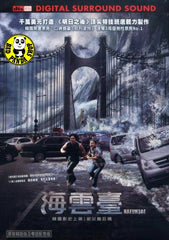 Region Coding: Region 3 (Locked)
Starring: 
Ha Ji Won
Sol Kyung Gu
Uhm Jung Hwa
Park Joong Hoon
Lee Min Ki
Kang Hye Won

Director: 

Yoon Je Kyun

Audio Tracks: 
DTS Dolby Surround, Dolby Digital EX, THX Surround EX

Languages: 
Korean, Cantonese

Subtitles: 
English, Traditional Chinese

Running Time: 
108 minutes

Distributor:
Edko Films Ltd. (HK)

Release Date:
22 Dec 2009

Synopsis:
The Indian Ocean Tsunami of 2004 was the worst tsunami recorded in history with more than 300,000 lives lost. Man-sik experiences the catastrophe first hand, when he and his men get stranded mid-sea while deep-sea fishing. All crew except one is rescued and Man-sik feels responsible for the death of the lost crew member - the father of Man-sik's long-time love, Yeon-hee. Four years on after returning home, he is still unable to open up his heart to Yeon-hee because of the guilt. When he finally musters up the courage to propose to her, he is interrupted by the force of nature.
Man-sik's younger brother Hyung-sik works as a coast guard. While on patrol, he rescues Hi-mi who had fallen off a yacht. The beautiful and spoiled vacationer from Seoul is instantly drawn to her rescuer and launches a bold campaign to win his heart. Hyung-sik finds himself attracted to her little by little.
A marine geologist Kim Hwi discovers that the Korean East Sea is showing signs of activity similar to the Indian Ocean at the time of the 2004 Tsunami and heads down to Haeundae to warn the authority. He runs into his ex-wife who is also in Haeundae to oversee an international event. With her, is their 7-year-old daughter whom he has never met. The fact that his daughter doesn't know who he is gives rise to complex emotions in Hwi.
In the meanwhile, a mega-tsunami is created as Hwi feared and is headed straight for Haeundae, to the unaware vacationers enjoying a peaceful hot summer day.
More items to consider...