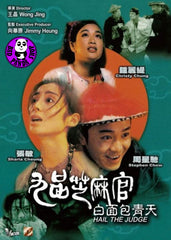 Region Coding: Region Free

Starring:
Stephen Chow 周星馳
Sharla Cheung 張敏
Ng Man Tat 吳孟逹
Christy Chung 鍾麗緹

Director:
Wong Jing 王晶

Audio Tracks: 
DTS 5.1, Dolby Digital 5.1

Languages: 
Cantonese, Mandarin

Subtitles:
English, Traditional Chinese, Simplified Chinese

Running Time: 
- minutes (TBA)

Distributor: 
Vicol Entertainment Ltd. (HK)

Release Date:
17 Sept 2015

Synopsis:
Chau Wah-sing was a muddleheaded minor government official. In a wedding banquet, a son of the Chief Commander was attracted by the beautiful bride. He attempted to rape her but failed. He was so angry that he killed all members of her family. Then he accused her of adultery. Wah-sing wanted to prove her innocence. However, he was arrested and imprisoned due to an alleged corruption…

More items to consider...