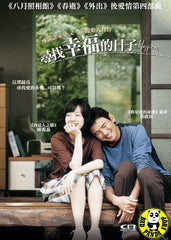 Region Coding:
Region 3 (Locked)

Starring: 
Hwang Jeong Min
Im Soo Jeong
Kim Gi Cheon
Yoo Seung Mok
Lee Jae Hoon
Kim Jin Goo

Director: 
Heo Jin Ho


Audio Tracks: 
Dolby Digital 5.1

Languages: 
Korean

Subtitles: 
English, Traditional Chinese

Running Time: 
124 minutes

Distributor:
CN Entertainment Ltd. (HK)

Release Date:
24 Dec 2008

Synopsis:
Young-su leads a careless and fashionable high life in Seoul but when stricken with liver cirrhosis, his business and love affairs go down the drain. With his live-in girlfriend gone and his club business handed over to his friend, there's nothing holding him back in the city. He decides to leave the glamorous lifestyle once and for all and retreats to a sanatorium in the countryside in order to treat his illness.
For Young-su, the sanatorium is world-apart from the upbeat and seductive scene he's accustomed to. It's a strange place for him to adapt to and even though he got there on his own, he's reluctant to follow the rules that'll help improve his condition.
More items to consider...