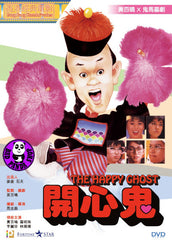 Region Coding: Region 3 (Locked) 

Starring:  
Raymond Wong 黃百鳴
Sheree Lo Ming Chu 羅明珠
Loletta Lee 李麗珍
Sandy Lamb 林姍姍
Teresa Carpio 杜麗莎 

Director:  
Raymond Wong 黃百鳴 

Audio Tracks:  
Dolby Digital 5.1

Languages:  
Cantonese 粵語, Mandarin 國語

Subtitles:  
English, Traditional Chinese 繁體中文字幕, Simplified Chinese 簡體中文字幕

Running Time:  
97 minutes 

Distributor: 
Panorama (HK)

Release Date: 
17 July 2020

Synopsis:
Three high school students, Bonnie (Bonnie Law), Juliet (Rachel Lee) and Venus (Sandy Lam), in their last year in school together, go on their last picnic before their examinations. Taking shelter from a sudden storm in an abandoned temple, Bonnie finds a piece of rope and takes it home. With this rope she brings home a spirit of the Ching Dynasty, Scholar Pik (Raymond Wong), whose archaic ways of thinking obviously clashed with the values held by a twentieth century teenage…

女校中五學生林青青(羅明珠 飾)、林小花(李麗珍 飾)及顏如玉(林珊珊 飾)在畢業旅行中,為避風雨,誤闖荒廟,並將一條殘舊的麻繩帶回學校,該麻繩原來乃清朝落第書生朱秀才(黃百鳴 飾)用以吊頸自盡,乃其魂所依。朱被這花花世界所吸引,鬧出不少笑話……


movie trailer
More items to consider...