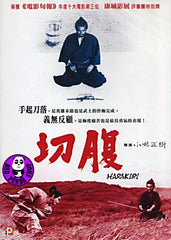 ***This movie was filmed in Black and White (not colour).

Region Coding:
Region 3 (Locked)
Starring:
Nakadai Tatsuya
Iwashita Shima
Tamba Tetsuro

Director:
Kobayashi Masaki
Audio Tracks:
Dolby Digital

Languages:
Japanese

Subtitles:
English, Traditional Chinese

Running Time:
134 minutes

Distributor:
Panorama (HK)

Release Date:
02 June 2003

Synopsis:
In this grim yet exquisitely composed film, Kobayashi Masaki delves into the world of the 17th-century samurai, examining "the honor in death--and the death of honor" (Time). After an unemployed samurai is forced to commit harakiri before a feudal lord, his father-in-law returns to the scene, seemingly to play out the same agonizing suicide ritual. Kobayashi begins at the story's end, then recounts the narrative as told by the father-in-law. The effect is almost unbearably suspenseful, leading to an explosive climax of supreme defiance and samurai swordplay, erupting from a battle of wills, called bluffs, and hotly defended honour. For connoisseurs of samurai action, Harakiri is not to be missed.
Awards: 8 wins & 2 nomintations
Jury Special Prize (Kobayashi Masaki) of Cannes Film Festival 1963

More items to consider...