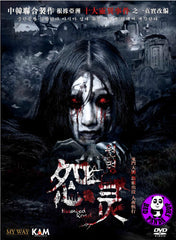 Region Coding: Region 3 (Locked)

Starring:
Su A Hong
Jo Jiang
Musi Ni
Ling Peng
Renata Tan

Director:
Yijian Tong

Audio Tracks: 
Dolby Digital

Languages: 
Mandarin

Subtitles:
English, Traditional Chinese, Simplified Chinese

Running Time: 
91 minutes

Distributor: 
Kam & Ronson Enterprise Co., Ltd. (HK)

Release Date:
8 Oct 2015

Synopsis:
July and a half, until Halloween. Several young men offer outings, witnessed a car accident on the road. They did not care, repeat offenders taboo, but not have expected that this was the beginning of a calamity. A sudden fog will be trapped in a crowd unmanned service stations, a spate of strange strange companions died mysteriously, and they get out of the service station anyway, like being caught in a vicious circle. Ye Wu come again, who can safely flee.

More items to consider...