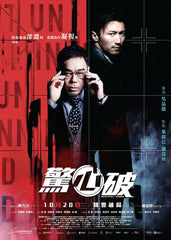 Region Coding: Region Free

Starring:
Lau Ching Wan 劉青雲
Nicholas Tse 謝霆鋒
Tong Liya 佟麗婭
Mavis Fan 范曉萱
Gao Weguang
Babyjohn Choi

Director:
Wu Pinru 吳品儒

Audio Tracks: 
Dolby Digital 5.1

Languages: 
Cantonese 粵語, Mandarin 普通話 / 國語

Subtitles:
English, Traditional Chinese 繁體中文字幕, Simplified Chinese 簡體中文字幕

Running Time: 
- minutes (TBA)

Distributor: 
CN Entertainment Ltd. (HK)

Release Date:
9 Dec 2016

Synopsis:
This is a thought provoking mysterious thriller about two Chinese chess masters who have been entangled in several serial murder cases in relation to the effect of organ transplants. John Ma (Nicholas Tse) a brave cop, and Calvin Che (Sean Lau) a criminal psychologist brought together are under the great threat and struggle to define all means evolved from the killings. Their final confrontation will uncover the lead behind the scene but will also put numerous innocent people in great danger than it is ever known before.

重案組象棋神探馬進(謝霆鋒-飾)在圍捕連環殺手「將軍」時,不幸被重創,命懸一線。一年半後,事件以為平息了,國際上竟再出現了幾宗跟將軍殺人手法一模一樣的富豪連環被殺案。專案組邀請康復後的馬進及犯罪心理學教授車家偉(劉青雲-飾)作案件的顧問。在追查過程中,車家偉的言行引起了馬進的懷疑,在暗中調查下,馬進發現了驚人的秘密。透過二人的角力暗湧,揭開了一段深不可測的驚心故事,而致結局出人意表。


movie trailer (English subtitle)

More items to consider...