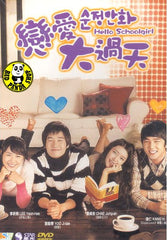 Region Coding:
Region Free

Starring: 
Chae Jung Ahn
Yoo Ji Tae
Lee Yeon Hee
Kang In

Director: 

Ryu Jang Ha

Audio Tracks: 
Dolby Digital 5.1

Languages: 
Korean

Subtitles: 
English, Traditional Chinese, Simplified Chinese

Running Time: 
113 minutes

Distributor:
Winson Entertainment Distribution Ltd. (HK)

Release Date:
29 Jan 2010

Synopsis:
Kim yun-woo works as a civil servant in a district office. Although he's thirty, he's quite innocent in dating girls. After moving to a new apartment, he often runs into HAN Soo-young, a high school girl who lives downstairs. Soo-young is a cheerful and eccentric eighteen-year-old who lives with her mother. Meanwhile, KANG Sook has just started his public service in the district office. He falls head over heels for Ha-kyung because of her beautiful smileafter seeing her in the subway station. Ha-kyung is still holding onto an old flame and keeps on looking for traces of that love every day. KANG Sook continues to keep wooing her, irregardless of her living in the past. Can their futures lead to a happy ending?
More items to consider...